Rovinj green market
The Green market in Rovinj is located in the center of town, a hundred meters north of Marshall Tito Square in the direction of the port and the parking Valdibora.
Surrounded by a miriad of colors, sounds and smells, at the market you can really find almost anything. From fresh, local fruits and vegetables, cheese, asparagus, mushrooms, indigenous local products, liqueur, honey, while fresh fish can be found in the fish market which is located within the green market.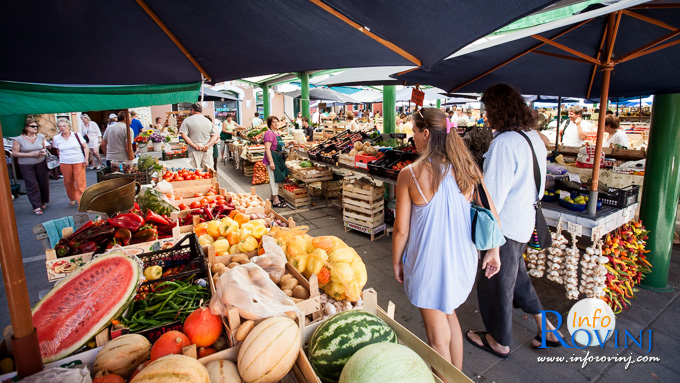 The products at the Rovinj green market are usually not cheap, but compared to fruits and vegetables that we normally buy in stores, at the market you can find products that are grown in fields near Rovinj, where mass production has not yet taken hold. These products are so much tastier and healthier.
It is not always easy to identify the vendors which offer local products without help, but try to find them out for yourself. It is not a rule, but at the local food vendors you will probably not find peaches, blueberries, oranges, bananas or pineapples which do not grow here, but the fruits that grow in Istria and mature at certain times of the year. The boxes in which they are sold, can also help you in discovering the origin of the product ...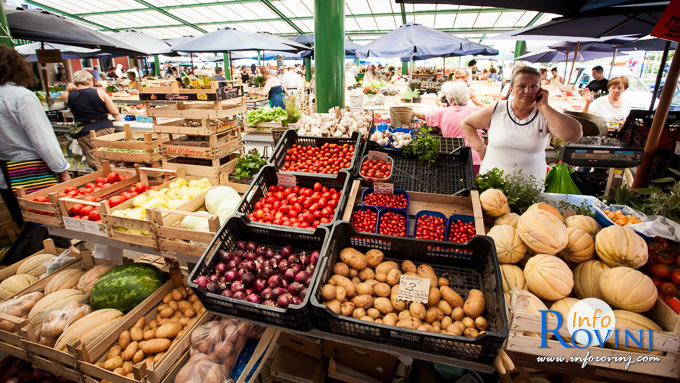 Rovinj fish market is very rich in fresh, just caught fish and therefore we warmly recommend it. Skip at least one lunch or dinner in a restaurant and prepare your own meal of seafood. Here you can see the fish species that you may encounter.
For those of you who want to bring along some memory of Rovinj, within the market there are stalls with various souvenirs, in the summer season. Please note that small shops with a similar offer can be found in almost all parts of the city. One of our favourite is the Marija Smit handbags store in Arnolongo Street where you can buy beautiful and high quality hand-made purses.
Information on Rovinj