Open air exhibition Grisia Rovinj
In a street bearing the same name and joining the main town square and St. Euphemia's church like a spine, academic artists, amateurs and children exhibit their works of art for a numerous audience, socialize and await final pronouncement of the best works and valuable prizes.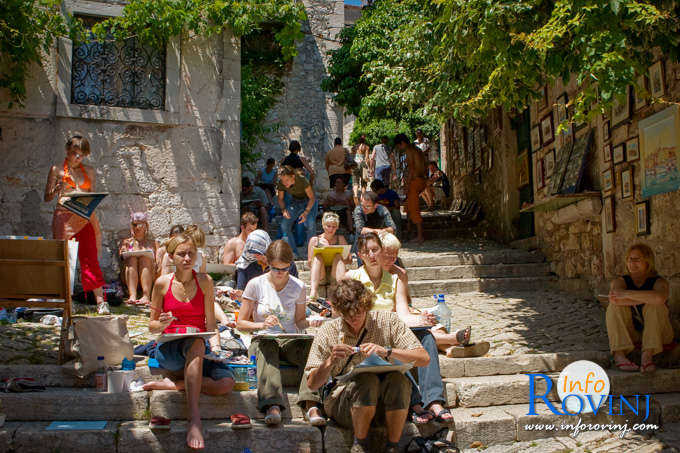 Grisia is organized on a Sunday in August, from 7 in the morning until late afternoon, when the street paved with shiny stone, walls, doors, windows and blinds get decorated with countless paintings, sculptures, installations and other colorful items – fruits of creativity produced by artists form the entire Istria, Croatia and beyond.
The first Grisia took place in 1967, and it is said that it was organized after 1966, when the ship "Liburnija" arrived in Rovinj from Venice. On the ship there were 120 American tourists, which for that time was already a great sensation. Walking through the streets of Rovinj, where have always lived a large number of artists, the American tourists, thrilled with our city of artists, bought 12 works of art. In 1967, moved by this event, the artists organized the first open air exhibition, Grisia.
"Grisia: probably among the most recognizable trademarks of old Rovinj; the street is picturesquely paved and windy, playful with its glittering waterfall of stone steps. The annual art event has been organized here since the summer of 1967 and a Sunday in August.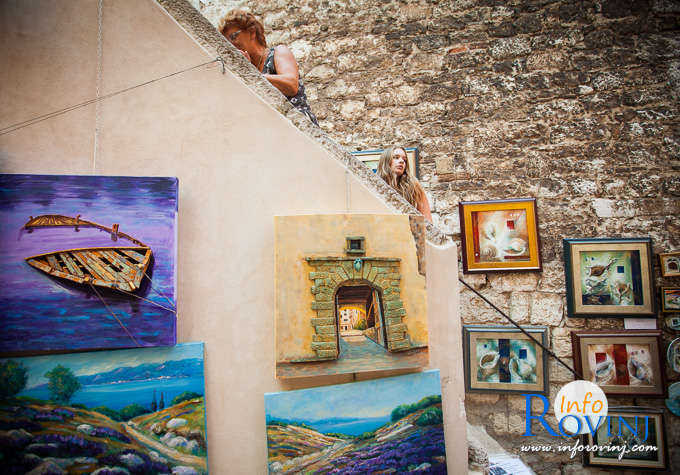 The story about artwork under the clear blue sky – on walls, doors, shutters, in hallways – its history is also the ancient history of curiosity, stubbornness and persistence of a creative mind, also a confirmation of the creative Eros that always looks for new challenges again, going toward the other man, toward the space with which the artist and his art can and want to communicate.
After all, one face of a work of art is always turned to communication, while the other face is permanent – even worried – dedicated to the existence of man and his position in the world, more inclined toward the reality of the other side, persistent in its search for the metaphysical and yearning for the Absolute.
Grisia is an individual and joint effort, however short lasting, but still a great effort in its best and most sincere moments, and a striving toward the beautiful, the good and the true. Grisia is, after alwl, Rovinj with its bosom placed in an atelier under the vault of heaven.
Text: Boris Biletić