Forest Park Golden Cape
The forest park Punta Corrente (Golden Cape) is one of the most important natural attractions of Rovinj. At the end of the nineteenth century Georg Hütterott bought four Rovinj islands (St. Andrew, Maskin, Sturag and San Giovanni) and began cleaning up an area of about 90 hectares on the Golden Cape to build a spa. His premature death interrupted the realization of this ambitious project, but his vision remained and contributed to the development of tourism in this area.
The uniqueness of Punta Corrente has been recognized in 1961 and declared a nature park.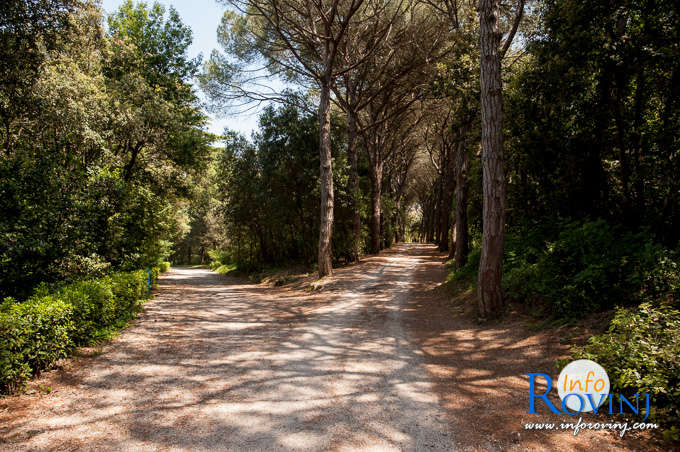 Golden Cape is ideal for various sporting activities such as running, cycling, gymnastics. The old quarry has been transformed into a paradise for lovers of free climbing. The park is perfect for a leisurely stroll. The whole area is closed to traffic from motor vehicles.
The beaches of Punta Corrente are worth a visit. As in the rest of the coast, there are rocky capes and pebble bays suitable for children. In several places along the coast there are beach bars where you can refresh.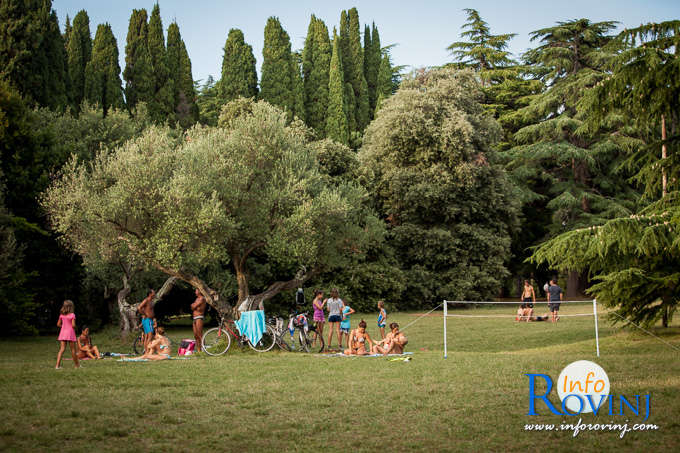 The Forest Park Golden Cape is rich in native plants. Himalayan cedars (Cedrus deodara), cypresses (Cupressus sempervirens) and pines (Pinus pinea) were planted. The meadows are surrounded by Douglas firs and the exotic solitary cypress (Cupressus sempervirens var.pyramidalis). In addition to a rich variety of pines, such as the Aleppo pine (Pinus halepensis) and the Calabrian pine (Pinus brutia), there is a dense undergrowth consistsing of holm oaks (Quercus ilex) and other Mediterranean shrubs.
Forest Park Golden Cape - photo gallery of Rovinj (28)