Special ornithological reserve Palud - Palù
Eight kilometers south of Rovinj on an area of ​​about 20 hectares in the rainy periods and two hectares in periods of drought, near the sea and the bays Cisterna and Gustinja, it is located the only ornithological reserve in Istria, the "Special ornithological reserve Palud - Palù" whose trademark is the Water Rail (Rallus aquaticus).
Palud was a fresh water swamp that the Austro-Hungarian army connected to the sea in 1906 by digging a channel with the hope that the increased salinity of water would stop the development of mosquito larvae and thus prevent malaria. They didn't manage to suppress malaria but as a result of the mixing of fresh and salt water in the swamp, mullets and eels, fish that prefer brackish water, found their habitat.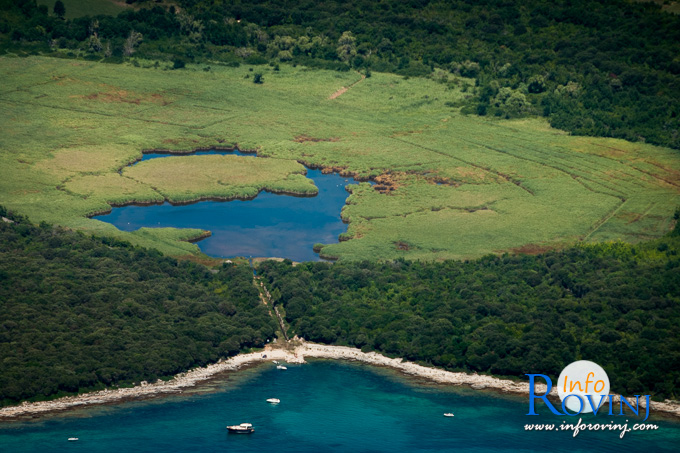 Throughout the year this specific wetland area conceals 220 until today observed bird species. The diversity and richness of bird species, especially wetland birds during nesting, wintering and migratory movements are the most important attractions of the reserve which lovers of birdwatching will particularly look forward to. With luck, or with a professional guide organized by Natura Histrica, in Palud you can see wild ducks, coots, grebes, snipe, warbler, oriole, woodpeckers, pipits, shrike and a variety of other bird species.
Birdwatching accompanied by a special ornithological reserve Palud - Palu '
Visits to the special ornithological reserve Palud - Palu are possible all year round, and admission is free. Bird watching (birdwatching / birding) with a professional guide for groups of up to 8 people (per group) for 2 hours arranged with prior notice.
Adults 50,00 kn / per person
Children up to 15 years of age 40,00 kn / per child
The price includes equipment for bird watching.
From Rovinj, the ornithological reserve Palud can be reached by following the road in direction to Pula. Four kilometers from Rovinj, in the settlement Kokuletovica, you should turn in the direction of Camp Vestar. A few dozen meters before the campsite turn left onto a dirt road. At the intersection before Mini Camp Mon Paradis turn left and follow the road along the coast to the Cisterna bay. Continue straight on and you will reach the reserve after two kilometers.
The remains of the church of St. Damian, built in the 11th century, are located inside the reserve. In 1177, Pope Alexander III landed somewhere near the church where he held the Mass. At least that's the story...
Any disposal of waste and the operation of motor vehicles are prohibited inside the reservation while it is permitted to use bikes. Through Palud passes one of Rovinj bike trails so that you can go cycling all the way from Golden Cape to Palud. While you're inside the reservation do not be loud because the noise can easily scare the birds.