Church of St. Thomas
St. Thomas church is situated 4 kilometres north of Rovinj, next to the old railway line that led from Rovinj to a small place Kanfanar. This edifice has a cross ground plan lately completed by a church tower placed on its north side. There is a six metres high apse, semicircular on the inside part and polygonal on the outside part.
St. Thomas church in Rovinj da Inforovinj su Vimeo
Lateral windows are enriched by semi-circular apses as well, although being constructed of smaller size. These apses are connected with the central nave by a high semi- circular passage. In the north part of the church the original paving was discovered along with the preserved stand of shrine partition with several niches for pilasters. Above the central part the remains of arches that upheld the erracted construction high above the roofing are still visible.
A radical constructional intervention was undertaken on the church in the 16th century, changing completely its original form. Since the lateral arches were walled in the whole edifice got one nave. The west part of the edifice was significantly shortened and altered by a new forepart with two square windows.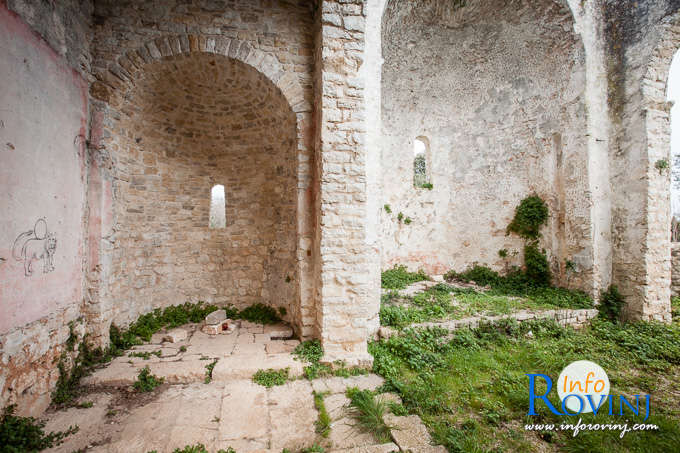 During the latest research of the church the experts found scores of fragments dating from the ante-Romanesque architectural plastics as well as the parts of church furniture - pilasters of shrine partition, columns with capitals, etc.
According to figures discovered so far and based both on the analysis of the building procedure and research findings, it can be asserted that the church was built in the end of the 8th century or in the beginning of the 9th century. Therefore St. Thomas church presents a beautiful example of the sacral architecture dating from the Caroline period in Istria.