Beaches in Rovinj: Red Island - St. Andrew Island
Red Island (Crveni otok), one of the most renowned tourist locations in Rovinj. Actually, it consists of two artificially connected islands: St. Andrew's Island (Otok Sv. Andrije) and Maškin Island (Otok Maškin).
Red Island is a fifteen-minute sail away from the town center. Taxi boats arrive from and depart for Red Island every hour, from a small pier on the main town square, and from Delfin pier. The sail to the island is very pleasant, passing by Katarina Island, Lona and Zlatni rt bays that will surely enchant you with their beauty.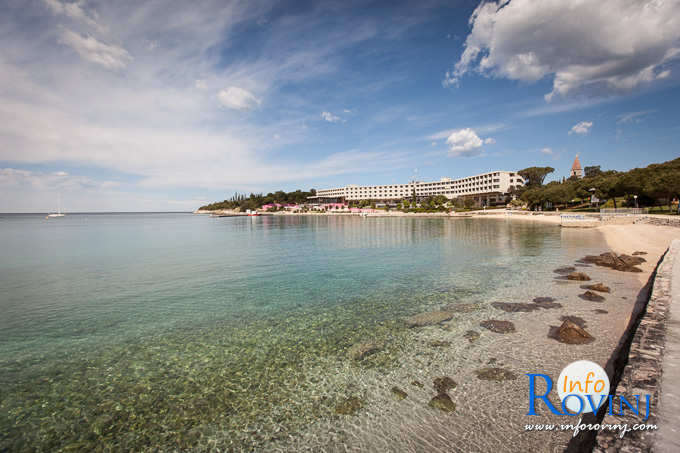 Dense Mediterranean underbrush and old coniferous forest are predominant on the island, and there are cultivated flower parks with paths near the hotels and annexes. In 2002, Red Island was hit by a heavy storm, almost entirely destroying the 100-year-old pine forest, which has been providing shade and shelter from summer heats for numerous tourists. The biggest damage was caused on the Maškin Island. A lot has been done towards cleaning and renovating the island since last year, so that you could enjoy its beauty and intimacy again.
You can find a really large number of beaches on the island. They are mainly stony beaches with typical coves covered with pebbles. The most frequented beaches are the ones situated on the south side of St. Andrews Island, near the hotel and the annex. Numerous services are offered nearby, namely: a restaurant, a pool, miniature golf courses, diver center and others. A small part of the shore near the little port has been covered with gravel, making it suitable for children and seniors.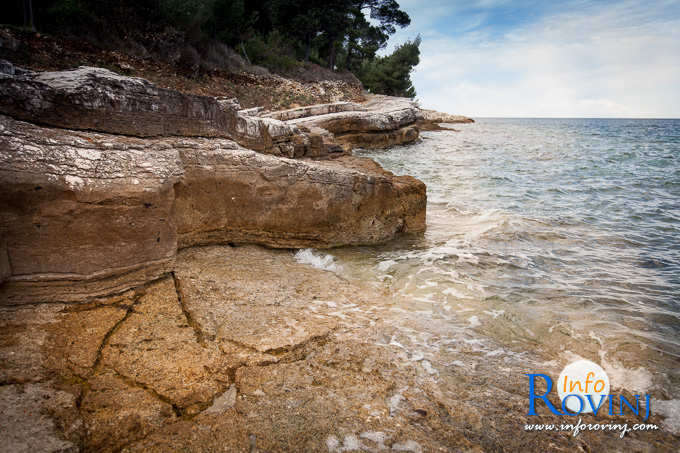 There are a few high rocks on the west side of St. Andrew's Island, which provide the possibility of diving into the sea, and it will be easier for you to find your own little corner on this side of the island, avoiding crowds and noise.
The beaches on the Maškin Island are stony or rocky, with gentle rifts and small bays. The most frequented ones are situated near the snack bar on the south side of the island, which offers no other services.
Red Island is often visited by guest and local swimmers who have their own yachts or boats, so be careful when diving or swimming toward open sea.
Beaches in Rovinj: Red Island - St. Andrew Island - photo gallery of Rovinj (46)
southern part
old town of Rovinj
northern part
islands