Beaches in Rovinj: Golden Cape
Golden Cape (Zlatni rt/Punta corrente), Kurent Bay and Montauro Cape are located around 1.5 km away from the town-center, south of the ACI Marina and Lone Bay.
The coast is mostly rocky. There are a few beaches covered with small round stones, and Kurent Bay, the most visited beach in this area, covered with gravel. Kurent Cape is on the eastern side. The beaches are rocky and the access to the sea is not easy. At Kurent Cape you will also find a pier where you can temporarily tie your boat and there is also a small gravel-covered bay.
The restaurant is located at the very tip of Kurent Cape in a stone building used by Count Huetterott as a stable for his horses on his way to and from St. Andrew's Island (The Red Island). There is a beautiful view from the Cape.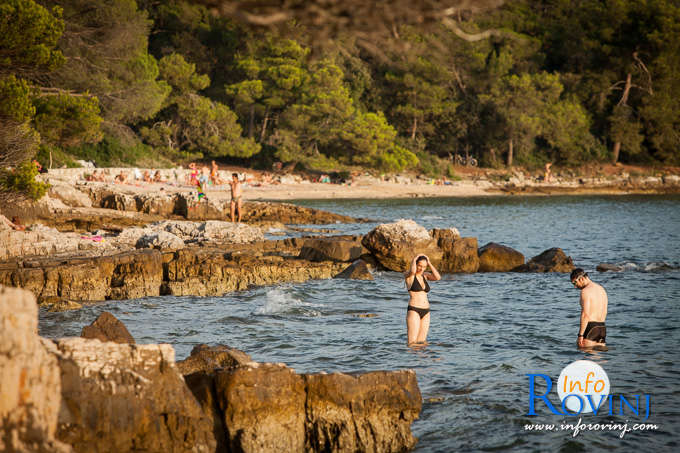 Moving on westward toward Kurent Bay you will come across rocky beaches which, nevertheless, offer easy access to the sea. The vegetation that grows along the coast at this area provides shade during the whole morning. Kurent Bay is the most visited bay in this coastal area. Gravel is only one of the advantages of this beach. Another advantage is the old ciniferous forest which provides shade thoughout the day.
The closeness of the big meadow (regularly mowed and maintained) is yet another advantage. It offers various sport and social activities (soccer, volleyball, badminton, frisby etc.) which can enrich your stay at the seaside. Unfortunately sporting gear cannot be rented there as yet. You have to bring it yourselves. There is also a snack bar in Kurent Bay. It offers drinks, ice-cream and deck-chair rental service. Kurent Bay also has public dressing cabins.
West of Kurent Bay there is a rocky coastal area with a few nice, small bays covered with small round stones. These bays are only a few neters wide but are very attractive since suitable for small children.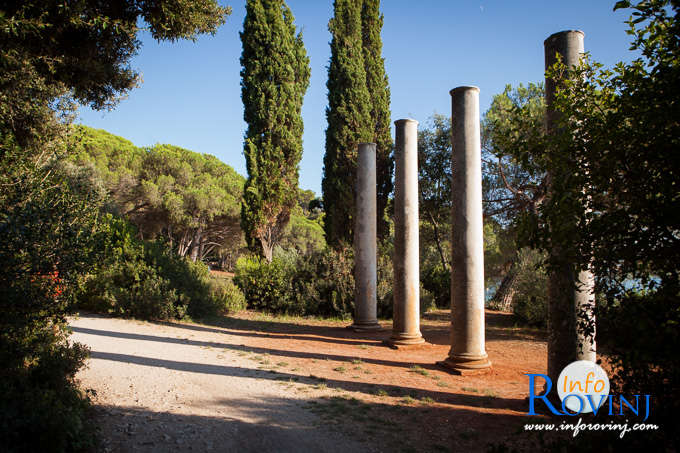 After this we approach an old Venetian stone-pit at Montauro Cape. The stone from this stone-pit still adorns many buildings and houses in Venice this very day. Now the stone-pit is mostly attractive to the fans of free climbing because it offers many trodden paths and a beautiful view of the Rovinj archipelago.
We would definitely recommend a walk along this part of the beach - the beauty of nature will overwhelm you.
The beaches at Montauro Cape are not that attractive: high and steep rocks make access to the sea very difficult. There are only a few passages where it is possible to access the sea. These beaches are usually frequented by naturists.
Beaches in Rovinj: Golden Cape - photo gallery of Rovinj (64)
southern part
old town of Rovinj
northern part
islands