Beaches in Rovinj: Bay Lone
Lone Bay is one of the most frequented beaches in Rovinj, so we have every reason to call Lone Bay the town beach. One of the biggest advantages of Lone Bay is its close proximity to the town center.
The bay is situated south of ACI marina, not far from Park Hotel, Eden Hotel, Montauro Hotel, Mone Mulini Hotel, tennis center and other sports/tourist facilities.
It takes a fifteen-minute walk to get from Trg maršala Tita to Lone Bay. If you are arriving by car, you can park near the ex MONVI amusement center, and walk down to the bay. Of course, we recommend you to use a bicycle, which is the fastest and most comfortable way to get to the beaches. You can rent bicycles near the Delfin pool.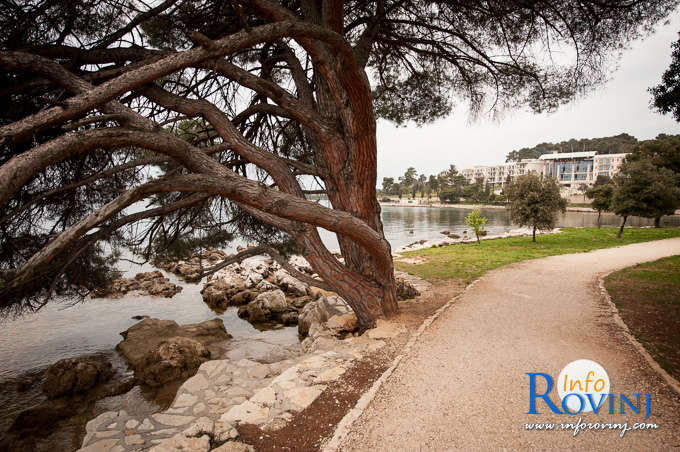 Lone Bay is a part of the protected Forest Park Zlatni Rt (Golden Cape) that is widely known for its beauty. Holm-oak specimen prevail in this area, and as far as conifers are concerned, aleppo and brutia pines are predominant. Wilmoren fir trees attract attention with their high, slim tops, stretching out almost to the sea. The centuries-old olive plantations, many exotics that have arrived as gifts to count Hütterodt or were brought back from one of his numerous voyages around the world, adorn this area today.
Lone Bay is ideal for children and seniors who will easily enjoy swimming, playing and sunbathing without fear. A few meters from the shore, you can find shade under thick tops of centuries-old trees, and there are two snack bars at the beginning and in the middle of the bay, in which you can always find refreshment.
The view of the silhouette of the old town and Katarina island gives a special atmosphere to the bay, and we should also mention the close proximity of a quarry known to all free-climbing lovers, which offers a magnificent view of Rovinj archipelago.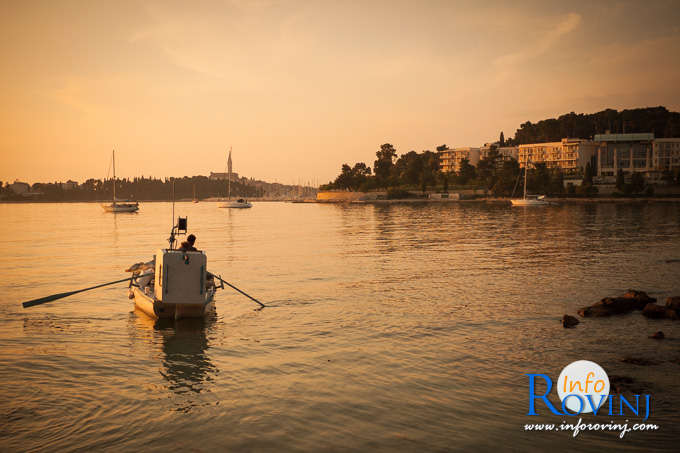 Beaches in Lone Bay are not suitable for nudism. Most of the swimmers will choose to swim in a swimsuit or topless, so we recommend the nudists to find their beaches a few hundered meters to the south, where they will be able to find a spot for themselves in the intimacy of a few hidden smaller bays.
Beaches in Rovinj: Bay Lone - photo gallery of Rovinj (47)
southern part
old town of Rovinj
northern part
islands