Beaches in Rovinj: Moulin Rouge
Moulin Rouge beach in Lone Bay, is the new town beach made anew in 2014.
Moulin Rouge is the first beach on the south side of the city of Rovinj. It extends from the ACI marina, passing near the three most luxurious hotels in Rovinj (Hotel Monte Mulini, Hotel Lone and Hotel Eden), and it ends at the entrance of the Forest Park Zlatni Rt.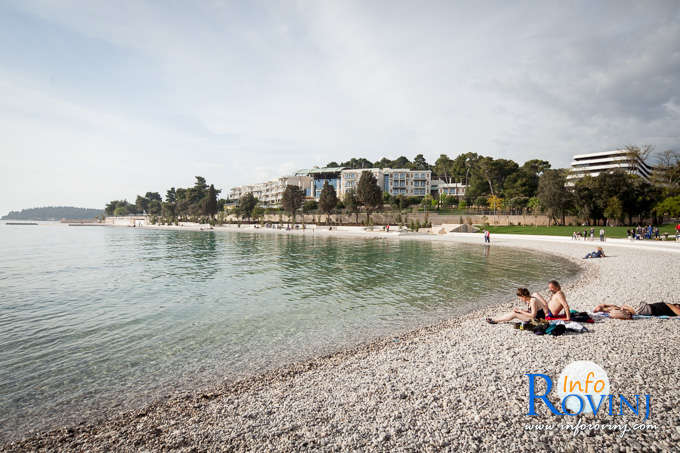 This part of the coast, which had previously been poorly attended because of its unattractive rocky coast has now become one of the most visited beaches in the city. The northern part is made of white concrete in a modern architectural style and is decorated with green areas. Guests now have a large area where they can lay down and enjoy the sun. Access to the sea is facilitated with several staircases.
The beach is equipped with a modern ramp for entering the sea of people with disabilities.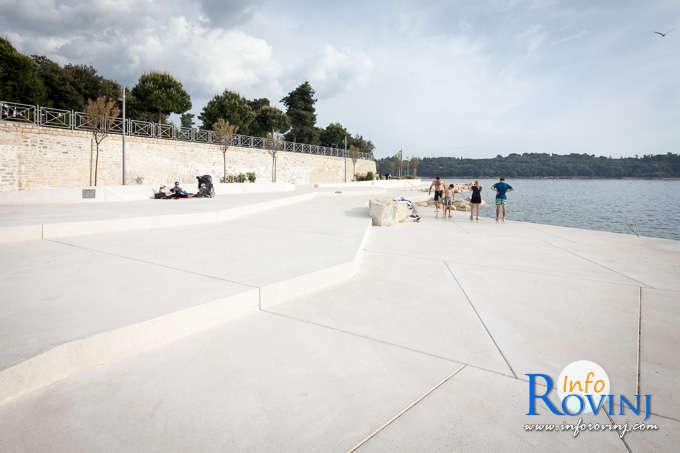 Below Monte Mulini Hotel is a new beach bar, benches, and access to the sea is arranged so that the whole of the coast is filled up with pebbles, ideal for families with children.
The beaches are also equipped with several sets of showers, and within the Beach Bar you may use  the public toilet.
Moulin Rouge beach in Lone Bay is close to the city center and luxury hotels, it has a Beach Bar, showers and public toilets. If you don't like crowded beaches Moulin Rouge is not for you, especially in high season.
There are no parking places near the beach because the area is closed to traffic. You'll be able to park your car near the basketball and tennis courts adjacent to Hotel Eden. There is a staircase south of Hotel Eden which will lead you directly onto the beach Moulin Rouge.
Beaches in Rovinj: Moulin Rouge - photo gallery of Rovinj (36)
southern part
old town of Rovinj
northern part
islands